Say no to the loan sharks!
Monday, 24th May 2021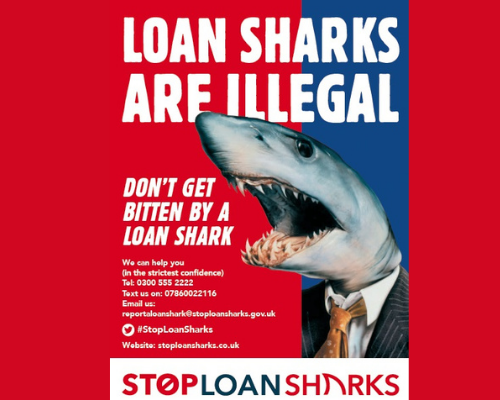 A loan shark is a person who offers loans at an extremely high interest rate, has strict terms of collection and generally operates outside of regulations. Loan sharks prey on vulnerable and desperate people – if you need money fast it can seem like no-one else will help you but there are alternatives.
Loans sharks will often:
offer a cash loan
not give you paperwork
add huge amounts of interest to your loan
threaten you and your loved ones or threaten to tell people about the loan
take your valuables, bank card or passport.
If you think you have been the victim of a loan shark visit www.stoploansharks.co.uk or call 0300 555 2222 to get help and advice.
Loan sharks make it sound easy – they will get you the money you need quickly, with no need to fill in complicated form or look into your financial past - but there is another answer.
As a Credit Union we will never lend you more than you can afford to pay back and we will also encourage you to save as you repay your loan so your financial situation improves.
We will consider your application, whatever your financial background or credit history – don't think because the high street banks have said no there is nowhere else to turn.
We also have very low, capped interest rates – you will know from the very beginning what you need to pay back and you can pay back your loan over a period that suits you and weekly, fortnight or monthly.
If you sign your loan agreement by 3pm you can have access to the money the same a day.
But we don't just want to get money in your pocket – we want to help your future be more financially secure. That's why all our loan repayments include a payment into a savings account – that means when your loan in paid off you will have a small savings pot ready to help you enjoy your future.
People are at the heart of our business and we will support you in every way we can – just say no to the sharks!
Tony Brockley, Chief Executive of Darlington Credit Union